Our new addition is not a new dog, cat or other critter... nor is it a baby on the way. (Sorry to disappoint.) No, our new addition is a 1918 Heintzman upright piano.
When we built our house, we knew that we would use the front room as a playroom for the kids while they were little but that it would eventually be a den, and we always figured that a piano would be a part of it. I don't think either one of us anticipated that the changeover would go quite so fast. (If we did, we wouldn't have punched those holes in the wall to hang pictures just a few months ago... pictures which have since been taken down, holes which have since been patched and painted.) But over the past few months, as we have been finishing up the basement and moving more of the kids' things down there, that opened up space on the main floor, and Chad started looking around for a piano.
I once had a piano, when I had an apartment of my own before we got married. I even took lessons for a bit. And then one day a neighbour commented on how clearly he could hear me practising... and, well, that was pretty much the end of my piano-playing days.
Chad started browsing on Kijiji, and as the basement neared completion he also set up an appointment at a local piano showroom. We looked at a few private-sale pianos before finding this one. Actually, a friend who was also piano-shopping found this one first, had a technician inspect it, and then chose a different instrument while giving this one a clean bill of health. I'm so happy that she passed it over, because it had me at hello. As soon as I saw the restored wood finish on it, I was sold. If you have seen our kitchen table or buffet you will understand... there is something about an old piece of restored mid-tone oak that I find irresistible.
Of course, it's great that the guts of the piano are in excellent shape, too. But to be quite honest, I don't have a musical ear. I couldn't tell you the difference between a good-sounding piano and a bad-sounding piano. If this one winds up just being a piece of furniture that nobody ever plays... well, at least it looks good in the process.
We do hope that Liam and Mallory will both learn to play. Heck, I have been pecking out Oh, Susannah and the theme from
Top Gun
for the past few weeks... maybe there is hope for me yet! The kids are pretty happy with it and I often hear them plunking away on it for a few minutes in the morning while Chad and I are brushing our teeth.
I was pleasantly surprised that the piano did not cost us an arm and a leg. You'd be surprised how many "Free piano - you move" ads are out there these days. I guess people don't have the space for large instruments any more, which is ironic, given how much bigger houses are these days. This piano was by no means free, but it was reasonably priced and we were able to negotiate the price down a bit. A win-win for everyone.
Mallory has started correcting us now when we call this room the 'playroom'... she likes to call it 'the music room.' We decided to decorate it accordingly. We've ordered a few posters to grace the walls. These all come from the Fillmore in California... poster art for various tours we've seen over the years or bands we like (or sometimes, just cool artwork!) The original idea to do 'vintage music posters' in this room translated into 'early 90s music posters' for the most part. I guess our idea of vintage isn't all that vintage after all.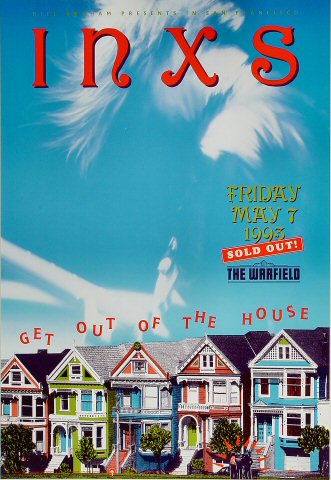 The INXS tour we saw together in 1993 (Chad refers to this as our first date, but seeing that he took another girl to prom the following week, I kind of disagree.)
Billy Bragg... saw him at Edgefest one year.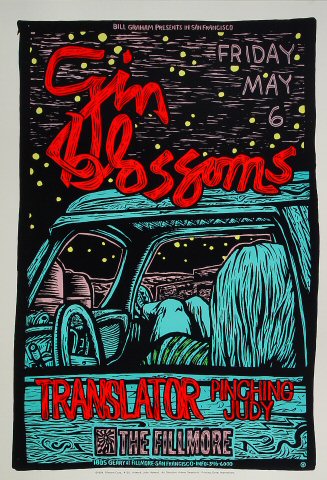 The Gin Blossoms... also from Edgefest? I don't know. It's all such a blur now.
You get the idea. Now we have to hang 8 new posters, so wish us luck. Picture-hanging does not bring out the best in us.
Anyway, I'm sure there will still be some toys in this room for a while. And since it's got some great open floorspace, I'm sure some toys will migrate up from the basement to be played with here, because who wants to spend all their time underground? This is turning into a nice cozy little den that can be enjoyed by both the kids AND the adults. I think we will continue to spend a lot of time in here.